THE FATE OF FOOD IN THE DSD SYSTEM
In the United States, over 133 billion pounds of food is landfilled each year. Simultaneously, 40 million Americans live in food-insecure households.
While considerable food waste occurs on farms or after consumers purchase food products, an estimated 40% of food waste occurs within the value chain, according to the Food and Agriculture Organization of the United Nations.
One popular and significant process that is used in the value chain to sell, deliver, and manage food sales between manufacturers to retailers is Direct Store Delivery (DSD).  According to a 2008 report from the Grocery Manufacturers Association, this process accounts for 53% of retail profits and 24% of unit sales.
"The US spends $218 billion on growing, processing, transporting, and disposing of food for human consumption that is never eaten."

The goals of The Sustainability Consortium's Food Waste and Hunger project is to:
Enable manufacturers, distributors, and retailers to be at the heart of community-based solutions that expand donation of appropriate foods where possible.
Understand how and why food is moving in the DSD system.
In an effort to tackle the complex issue of food waste and access to healthy food, TSC's Food Waste and Hunger Task Force has engaged with retailers, food manufacturers, NGOs, and food rescue organizations to identify and scope out a project that addresses this issue.
This project will be conducted in the city of Denver, Colorado, a city identified by NRDC as having significant potential for improvement in reducing food waste and increasing food donations. NRDC calculates that under optimal conditions, an additional 7.1 million meals could be donated annually in the city of Denver. In their 2017 report, "Estimating Quantities and Types of Food waste at the City Level," NRDC found that in Denver 4.2 pounds of food per capita was wasted and that 76% of that could have been eaten.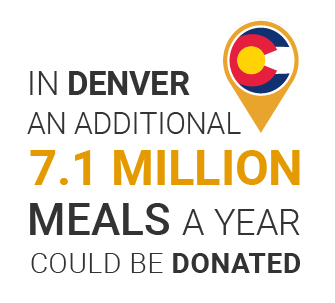 Working with on-the-ground partners, identify known or suspected drivers of food loss and waste in the system (e.g. surplus, rejected foods). Choose 2 or 3 high-priority foods that fall within the following criteria:
high-priority product for local




rescue organizations and local retailers

products most relevant for




stakeholders involved in the project

DSD manufacturers willing to




participate in the project.
In partnership with key stakeholders, we will establish why surpluses and returns exist in the DSD value chain for selected foods and quantify the amount by working with partners in the manufacturing, distribution, and retail community in Denver, Colorado. We will work to pinpoint the stages at which food is returned, discarded, donated, composted, or resold. This stage will also include an analysis of the associated costs and tons wasted, as well as amounts already donated and that could be donated.
TSC will work closely with participating organizations to share outcomes that help to identify and address decisions and processes within the DSD system that are leading to surplus or returned food being wasted rather than reaching those in need.